Get A New Set Of Cooper Tires at Beauregard Transmissions
Cooper Tire and Rubber Company offers an affordable tire with safety features that you can trust. At Beauregard Transmissions we recommend Cooper Tires to drivers across DeRidder every day. We rely on Cooper tires to keep their families safe and help them navigate new roads.
Cooper Tire and Rubber Company was founded in Akron, Ohio in 1914 and is headquartered in Findlay, Ohio today. Despite being considered a newer tire manufacturer, Cooper has grown to be one of the top five largest tire manufacturers in the world. In 2021, Goodyear acquired Cooper Tire and Rubber Company and they operate as a Goodyear subsidiary today.
If you're looking for a dependable set of tires that doesn't sacrifice affordability, give Beauregard Transmissions a call today at 337-462-0342 to review which Cooper tire is best for you! Drivers near your neighboorhood come back to Beauregard Transmissions because like Cooper we believe in affordable services with your family's safety at the heart of everything we do. Just minutes from everything, we are driving distance from you. Ask any car or truck owner in your neighboorhood who they recommend. Next stop by Beauregard Transmissions at 1724 N Pine St, DeRidder, LA, 70634.
Everything You Need to Know Before Buying Cooper Tires
Cooper stands out from the crowd due to the incredible value in their tires. They cost less than many other tires on the market while still offering a high-quality and durable tire that your family can depend on. Cooper tires are known as one of the safest tires on the road due to their exceptional traction and durable tread.
At our auto repair shop in DeRidder, we offer Cooper Tires with a wide variety of sizes and performance options, so there's a choice for everyone, no matter what you're looking for. They focus exclusively on consumer tires and have perfected their products. Cooper provides three tire families with 22 tire variations to choose from, the tire families are:
SUV Tires
Truck Tires
Car/Van Tires
At Beauregard Transmissions we help you determine which Cooper tire is the best fit for you and your vehicle. We use factors such as where and how often you drive as well as what kind of tire you're looking for to determine which tire is the best fit for you. Whether you're looking for a performance tire or a classic all-season tire, Cooper has a new set of tires just for you. Give Beauregard Transmissions a call today at 337-462-0342 for a comprehensive review of which Cooper tire fits you and your vehicle's needs. We are conveniently located driving distance from you.
At Beauregard Transmissions, your satisfaction is our top priority. We uphold Cooper manufacturer rebates and the robust manufacturer's warranty offered by Cooper. Whether you're looking for a standard tire warranty option or the 45-day road test, we've got your back. If you have any questions about the Cooper warranty or rebate offerings, give us a call at 337-462-0342.
With a set of Cooper tires, you're getting an affordable tire that offers good tread life and performance to match. Gone are the days of dreading buying a new set of tires, because Cooper tires check all the boxes for your family. Whether you're looking for a quality tire that doesn't break the bank or your tread is low, give Beauregard Transmissions a call today at 337-462-0342 to find out which Cooper tire is right for you.
What our clients are saying about us
We have established longterm and stable partnerships with various clients thanks to our excellence in solving their automotive needs!
More Reviews

I've took my daughters car all over town for an oil change and every time I get the oil changed they tell me we have a large oil leak. Well I finally took it to Beauregard Transmission and they told me I didn't have an oil leak that the oil filter was not put on right. Well problem solved quick and easy. Needless to say I don't need to drive all over town any more. I go to Beauregard Transmission when I need work done. A+ in my book.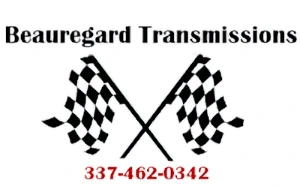 I have a 04 Chevy 1500. I brought it in due to a slipping transmission. The guy rode with me to diagnose the issue and for me to express any other problems that was happening, as well. I received a quote before the day's end. The repair was completed in a timely manner with warranty. All staff that I encountered both on phone and in person were very accommodating and polite. I had a very positive experience dealing with them. I definitely would highly recommend to anyone.